Using the best firewall for Android devices is essential in today's threat environment. Android operating system commands the lion's share of mobile users globally as of September 2021, accounting for 72.44% of the mobile operating systems market globally. The closest competitor, iOS, has a market share of only 26.75%. Additionally, 80% of the more than 313 million smartphones and tablets shipped between April and July 2021 were running the Android OS.
Undoubtedly, Android is the most popular OS on the planet. The popularity hinges on the OS's open-source nature, which permits popular mobile phone manufacturers, including Huawei, Samsung, and Xiaomi, to run their devices.
However, the popularity of Android devices exposes users to numerous online risks. For example, Check Point researchers recently discovered cloud misconfigurations that allow misuse of storage, notification managers, and databases. The misconfigurations exposed the data of more than 100 million users, including passwords, names, and email addresses, while causing corporate resources to be vulnerable to attacks. More concerning, recent research found that at least 60% of Android apps are vulnerable to multiple attacks, with the average number of security flaws totaling to 39 per app.
Why Do You Need the Best Firewall for Android Devices?
The security approaches of computers and Android devices are different, and most people don't regard a firewall application as critical in securing a mobile device. On the contrary, installing a firewall on an android smartphone provides users with full control over apps with internet access to protect mobile data from attacks. Besides, a firewall application permits users to determine android apps that can access and use an android phone network, enabling monitoring of app data usage.
In addition, using the best firewall apps allows you to restrict background data when connected to an internet connection, which extends a device's battery life. Also, for android games that require an internet connection, you can use a firewall to block annoying ads by preventing the apps from accessing the internet. Ads can be annoying since they pop up every other time.
More importantly, any android device is susceptible to breaches and attacks. As a result, it is pertinent to take recommended precautions to secure personal information stored in android mobile devices by using one of the best firewall for Android Devices options. Enabling the advanced features that come with android firewalls is the right step towards protecting against potential cyber-attacks and breaches. Enabling a firewall app allows users to control the data that specific apps can share or apps that can access the internet.
Lastly, similar to firewalls installed in a network or computer, an android firewall acts as a gatekeeper. Hence, an android firewall can filter network traffic to block malicious traffic from entering your device. That implies that a firewall can help filter incoming traffic and outgoing traffic to prevent harmful network interactions.  
Enable a Firewall in Three Easy Steps
An android firewall allows users to control app interactions with external networks to safeguard data and applications. Fortunately, there are numerous firewall applications to choose from, with each app boasting additional features designed to offer you complete privacy. You can enable a firewall in three easy steps, which are:
Identify the most suitable firewall app: Different firewall applications provide different functionalities and features. Therefore, the first step should be identifying a suitable firewall app that addresses your security issues. A search of firewall apps on the Google Play Store can provide some excellent choices.  
Does your phone require root access? Mobile phones running earlier versions of Android need root permissions to install some firewall apps. In addition, rooted android devices provide super-user privileges where users can write or read system files or modify system configurations.
Best Firewall for Android Devices
1.      AFWall+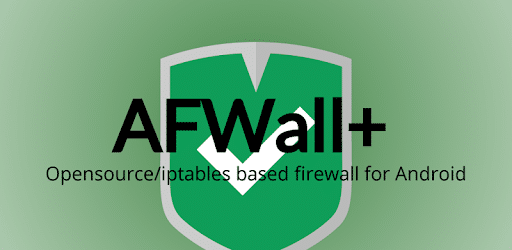 AFWall+ is one of the android firewalls that require root access. It is a root firewall app that enables users to control their device's internet activities better. For example, you can use AFWall+ to control internet access for each app despite whether it is an installed or system app. Notable best features of AFWall+ firewall include the ability to:
Export profile settings, preferences, and firewall rules
Hide applications
Lock and password-protect AFWall+ configurations
Support profiles for multiple users
Support tether, VPN, and LAN
2.      NoRoot Data Firewall
NoRoot Data Firewall has a clean and simple interface. The firewall's default configurations notify users once a particular app tries to connect to the internet. Hence, you may decide whether to permit or deny an app from accessing internet traffic. In addition, NoRoot Data Firewall offers access control capabilities where users can control access of individual apps, default mobile data or internet usage, and app behavior when connected to wireless networks.
Moreover, NoRoot Data Firewall logs the network activity of each app and allows users to analyze the IP addresses or websites a specific app connects. Additional features include the ability to block access to IP addresses or individual domains, prevent images from loading to maximize data usage, capture packets, modify DNS server, and throttle bandwidth.
3.      VPN Safe Firewall
As the term implies, VPN Safe Firewall is one of the best firewall for android options that protect a user's online activities. It has an inbuilt virtual private network that encrypts traffic to prevent access from prying eyes. Also, VPN Safe Firewall comes with added functionalities designed to minimize data usage and preserve battery life. VPN Safe Firewall has a simple user interface that enables configurations per-app basis. Moreover, VPN Safe Firewall notifies users by default once an app attempts to establish an internet connection. VPN Safe Firewall is a free app designed to work with different networks, including LTE, WiFi, 3G, and 4G networks.
4.      NetPatch Android Firewall
NetPatch Android Firewall does not require root access to protect your device. Similar to most android firewall apps, NetPatch Android Firewall permits users to block or allow any IP address, Hostname, or network-based app. In addition, NetPatch Android Firewall stands out from most firewall apps since it enables users to customize each app how it can interact with the internet, even when a device's screen is turned off.
NetPatch Android Firewall also supports ShadowsocksR and Shadowsocks proxies, a capability not present in most android firewalls. You can use NetPatch Android Firewall as a free app or access premium functions by making in-app purchases. Some advanced premium version features include supporting CIDR network addresses, creating IP or domain groups, blocking apps from accessing specific domain names, and viewing network logs.
5.      Mobiwol NoRoot Firewall
Mobiwol firewall app permits users to prevent individual android applications from accessing the internet via mobile data connection or WiFi networks. Lack of complicated settings and ease of use are some of the factors that make Mobiwol appeal to most android users. Essentially, you can configure the system apps or installed apps that can access the internet by just selecting them.
Mobiwol firewall further notifies users of each app's data usage to inform whether to restrict some apps from using more data. If the apps use data to the set limit, Mobiwol prevents further internet access or the use of mobile data. The app provides valuable features without the need to configure confusing or advanced options.
6.      InternetGuard Data Server Firewall
InternetGuard Data Saver Firewall is one of the most helpful android firewalls used to block outgoing and incoming internet traffic. While it is a relatively new app on Google Play Store, InternetGuard Data Saver Firewall protects user devices efficiently since it can block all network traffic with a single tap.
Moreover, InternetGuard Data Saver Firewall is easy to use as it lacks complicated configurations or settings present in most firewall apps. InternetGuard Data Saver Firewall also provides numerous advanced features designed to enhance android device security posture. For example, you can protect your privacy by using the no tracking of user data. It also supports various network protocols, among them being UDP, TCP, IPv6, and IPv4 protocols.
7.      NoRoot Firewall
NoRoot Firewall is one of the best Android firewall apps for unrooted mobile devices. It is a feature-rich firewall app that provides users with complete control of device applications. Specifically, NoRoot Firewall enables users to determine the applications that access an internet connection or restrict the access.
Besides, you can gain more nuanced control using NoRoot Firewall by selecting individual apps permitted or prohibited from accessing the internet using mobile or WiFi data. Additional features include blocking access to specific IP addresses and websites. On the downside, NoRoot Firewall does not support IPv6 network protocols and may, therefore, not work on devices using the LTE network connection.
8.      LostNet NoRoot Firewall
LostNet NoRoot Firewall provides numerous which you can configure over a simple and easy-to-use interface. The firewall app enables Android users to not only prevent apps from connecting to the internet but also restrict apps from accessing specific regions or countries. Similar to most non-root firewalls, LostNet NoRoot Firewall manages network traffic through a local VPN. Therefore, LostNet NoRoot Firewall can protect an android device from harmful websites and domains by blocking ad popups.
One of the reasons most users consider the LostNet NoRoot Firewall as a perfect solution is that you can prevent apps from connecting to the internet at specific times. Additional useful LostNet NoRoot Firewall features include network traffic monitoring, the ability to capture data packets for analysis, support profiles of different users, instant notifications and alerts, and the power to prevent apps from accessing untrusted networks. However, LostNet NoRoot Firewall is not a free app, and users must part with approximately $0.80 to access the premium version.