We outline how to  become a cybersecurity specialist and enter a rewarding and exciting career path.
Cybersecurity is one of the fastest-growing fields today. As a result, there is a huge skill gap in the cybersecurity industry. This gap has been widening. Organizations report that the shortage of cybersecurity skills has increased in every year since 2016.[1]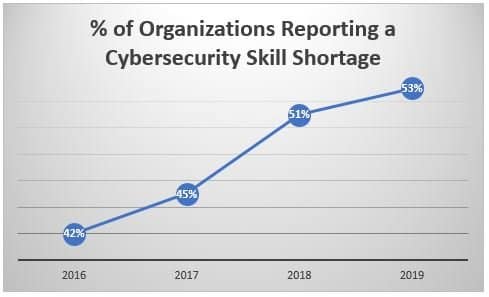 Similarly, the World Economic Forum indicated in a 2019 report that the U.S. has more than 200,000 cybersecurity specialist positions that are hard to fill.[2]
However, organizations are prioritizing cybersecurity due to an increase in cyber-crime. This leads to our question:
How can one take advantage of the situation and become a cybersecurity specialist?
First, Identify your desired career path
Cybersecurity is a broad field with multiple career paths. You should first identify a suitable career before you join the industry. Various cybersecurity careers have different roles and responsibilities. There are different skills required for different roles. Identifying your ideal position first will ensure that you are on target for a fulfilling career.
Common career paths include:
Chief Information Security Career (CISO)
Cybersecurity Consultant
Security Architect
Penetration Tester/Ethical Hacker
Gain general IT experience
General IT skills are an essential foundation. You must understand how technology works to secure it from hackers. Some cybersecurity professionals gain experience in college. Others don't focus on IT until later in their careers.
Some of the entry-level jobs that can be used to gain experience include:
Web developer
Systems administrator
IT technician
computer software engineer.
Continuously Learn

Cybersecurity evolves every day due to the emergence of new technologies and hacking techniques. Cyber-criminals create more than 350,000 new malware and unwanted applications every day.[3] New threats mean that a cybersecurity professional has to learn new ways of securing information systems and data continuously.
Success can only be possible through continuous learning. Acquiring new cybersecurity skills also opens up new opportunities that will help you progress in your career.
For example, an ethical hacker should be familiar with all skills a hacker uses to penetrate systems. Otherwise, the ethical hacker might fail to identify some vulnerabilities. Failures like this could lead to a data breach.
Continuous learning enables one to acquire new skills needed in the ever-changing field of cybersecurity.
Obtain cybersecurity certifications
By 2021, cybersecurity jobs will have exceeded 3.5 million.[4] There will be a lot of job openings! But this does not mean that it will be easy for job seekers.  Organizations are only interested in the most skilled professionals. To demonstrate that you have the needed skills, you should work to obtain cybersecurity certifications.
Certifications prove that you have the skills needed to do the job and are instrumental in helping you get the job you want. Many cybersecurity industry jobs require certifications as a prerequisite.
Examples of certifications that can build your cybersecurity career are listed below:
Certified ethical hacker (CEH)
CompTIA Security+
SANS GIAC Security Essentials (GSEC)
Certified in Risk and Information Systems Control (CRISC)
Certified Information Security Manager (CISM)
Select a holistic cybersecurity course
A comprehensive cybersecurity course often offers two learning methods:
Practical – how-to, hands-on, and step by step (lab work and on the job training)
Theoretical – classroom training
Both types of learning are required if you are to become proficient in your chosen cybersecurity field.
Through a holistic cybersecurity approach, you gain enough skills which enable you to anticipate security risks and threats and be proactive in developing new solutions. It further provides you with the knowledge needed to handle cybersecurity incidences as they occur.
A holistic program enables you to adapt to technological changes since they significantly impact the cybersecurity landscape. A cybersecurity specialist must be able to apply hands-on experience to adapt to new trends. A holistic cybersecurity program provides such capabilities.
Understand the cybersecurity industry
It is vital to first understand the industry before embarking on a cybersecurity career. You should:
Have an understanding the available cybersecurity jobs
Know the training required for each job
Understanding the cybersecurity industry plays an integral role in the decision-making process when choosing the field in which to specialize. People sometimes rush into a career only to switch to a different domain. Learn all you can about the industry so that you can be confident that you are choosing the right path for you.
Choose a cybersecurity field you are passionate about
The cybersecurity industry provides professionals with enormous opportunities for pursuing individual interests. You should thus pursue the area in which you are most passionate. For instance, a person passionate about hacking would make a great ethical hacker. Someone who loves fighting the bad guys would be suited for an Incident Response position.
Network with other cybersecurity experts

Networking can provide many opportunities for advancing a cybersecurity career. Cybersecurity requires a lot of creativity. Interacting with other professionals can offer avenues to learn and grow.  There are many cybersecurity-focused events and meetups that you can attend.
Conclusion
Cybersecurity careers are incredibly satisfying and pay well. Because of this, it is a great time to consider a career in cybersecurity. There are many different ways that you can learn about cybersecurity. Many online sites offer training in various cybersecurity fields. Acquiring certifications are added advantages for building a career in cybersecurity.